Welcome to the new era in European ship supply!
It is a distinct privilege to welcome you to the webpage of OCEAN.
Here you will find all the relevant information about our organization, our industry, and the European policy environment in which our industry operates. I am especially proud of the regular news Articles written by our membership, covering a wide range of interesting topics. They keep you informed about our vibrant industry, what we do and who we are. What's even better, as our webpage is mobile enabled, you can read about OCEAN anywhere, anytime.

Happy Surfing !

Dirk Cupido
OCEAN - Chairman
05.04.2017

Spanish Shipsuppliers Association (AESMAR)
Eugenio Mediavilla, OCEAN representative for AESMAR reflects on Spanish shipsupply
The Spanish Shipsuppliers Association (AESMAR) was founded in 1977, with the objective of looking after the interest of shipsuppliers and giving a voice to our industry in national and international forums, with National and Local Administrations, Customs and Tax Authorities, National Port Authority and other entities and associations.
01.01.2017 | Dirk Cupido
Stormy times ahead for the European Union in 2017?
A look back and a look forward from the OCEAN Chair
The Chair of OCEAN reflects on a successful 40th anniversary of OCEAN in 2016 and the challenges that lie ahead with a European Union under pressure.
01.12.2016
The Head of EU customs legislation meets OCEAN in the famous S. Giorgio Palace
Former OCEAN Chairman Michel Van Hulle reflects on the last two decades
As former chairman of OCEAN from 2006-2011 and for decades member of the board of
the "Koninklijke Belgische Beroepsvereniging der Scheepsbevoorraders" (Royal Belgian Ship Suppliers Association), which was one of the founding fathers of OCEAN, I am honoured to reflect on the many issues that made OCEAN more important than ever during the last two decades.
01.11.2016 | Jens Olsen
Original OCEAN Logo
Former OCEAN Jens Olsen reflects on the founding years of OCEAN
Former OCEAN and ISSA Chairman Jens Olsen (1998-2003) reflects on the founding years of OCEAN and key developments in the first two decades of the organization which has made OCEAN the strong and effective representative for the European Ship Supply industry it is today.
30.10.2016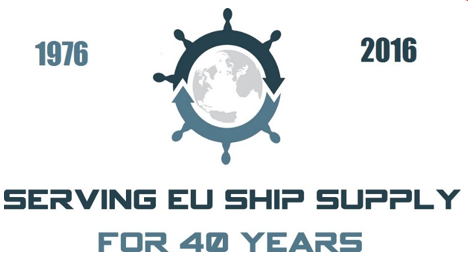 OCEAN concludes 40th birthday in Brussels with meetings
Board and Working Group on Customs + Taxation meetings in Brussles
The OCEAN Board and the OCEAN Working Group Customs & Taxation will meet in Brussels to conclude OCEAN's 40th anniversary celebrations.